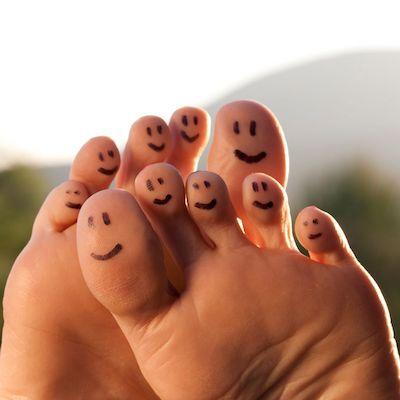 Happy New Year! A new year is the perfect time to focus on ways to improve your health and accomplish your goals! Your feet may not come first to mind, but they can be a great indication of your overall health and help you reach your aspirations. So whether you plan to get your body moving more this year, or say goodbye to foot pain, focusing on your feet can make a difference! Try incorporating these foot care resolutions so you can step into 2023 feeling great!

Wear the right shoes
Your feet spend the majority of the day in shoes, a fact that is often overlooked when patients come in seeking relief for their foot pain. Having shoes that not only are comfortable but also provide support where your feet need them is important, especially if you are active or on your feet a lot. When shopping for a new pair of shoes, be sure to ask yourself: are they the right width? Is there enough room for my toes? Is my arch supported? Does my foot move around as I walk? Is there room for an orthotic? If you need help selecting the right shoe for you, consult with our podiatrists!

Use custom orthotics
If you want to improve your foot function or address pain from conditions like bunions, diabetes, flat feet, or plantar fasciitis, consider custom orthotics to insert into your shoes. Unlike store-bought generic ones, custom orthotics are tailor-made for your specific feet and can provide the right amount of support and cushioning to enhance comfort and correct abnormal foot mechanics.

Give your feet attention
Compared to a skin care routine for your face, your feet probably don't get much thought or attention. To prevent common problems like fungal nails or ingrown toenails, it's important to make sure your feet are clean, and your toenails are trimmed properly. Giving your feet just a few extra minutes of attention also allows you to notice any changes that could be indications of a problem.

Address your pain
Remember that foot pain is not normal, so if you are experiencing any discomfort or pain, you should seek help from a foot care specialist. A podiatrist can help you treat problems and manage your foot health so you can feel better, whether it's an acute or chronic issue.

Stay a step ahead
With years of expertise and advanced treatment methods, a podiatrist can help you achieve healthier feet! At Kentucky/Indiana Foot and Ankle Specialists, we have a team of dedicated foot doctors who provide high-quality individualized care for each of their patients. Staying on top of your foot health will help you achieve your fitness and health goals, so don't wait to see a podiatrist! From acute care to routine checkups, our foot doctors are equipped to provide a wide range of effective treatments. Contact any of our locations in Louisville, Bardstown, Bowling Green, Elizabethtown, and New Albany or book an appointment online!